Introduction
Going against the Turkish national will, as it was reflected on June 7, 2015 in the results of the country's general elections, Turkish President Recep Tayyip Erdogan and his Justice and Development Party (AKP), who did not achieve the win they sought in the elections, are taking the country to the polls again, on November 1. AKP deputy chairman Mehmet Ali Sahin recently threatened that there may be elections yet again, in the spring of 2016, if voters fail to give the AKP the parliamentary majority for single-party rule that it seeks. This means that the AKP may be calling elections repeatedly until Erdogan gets enough votes to become an all-powerful president.
This situation underlines what, according to prominent Turkish columnist Ertugrul Ozkok, is a common belief that Islamists may come to power via elections but never leave via elections.[1] Additionally, a poll in Turkey found that two of every three Turkish citizens fear both Erdogan and what he may do for his party in order to remain in power.[2]
Out of fear of losing power, and of standing trial for the unlawful activities, including cover-ups of cases of massive corruption and bribery, violations of the law and the constitution, and support for jihadi organizations in Syria and elsewhere during the 13 years of their rule, Erdogan and his party are becoming more authoritarian by the day.[3] Having waged war in the country on citizens, free media, corporations, opposition parties, and, most importantly, the rule of law, Erdogan and the AKP are steering Turkey towards transformation into another Middle East dictatorship.[4]
On Sunday, Turks will again go out to vote - if Erdogan does not meddle with, cancel, or postpone the elections.
The following are excerpts from several recent media reports and articles on the assault on media, the rule of law, and democracy in Turkey, and the current status of freedom of the press there:
Government Unlawfully Seizes 23 Companies Belonging To Koza Ipek Holding
On October 26, 2015, Turkish media reported that trustees would be appointed to replace the existing executive boards of the 23 companies of Koza Ipek Holding, a Turkish conglomerate active in several sectors, including media, energy, mining, and education. This move followed a decision by a judge in the 5th Ankara Criminal Court of Peace. These highly controversial, one-judge Criminal Courts of Peace were added to the Turkish justice system by the AKP government during Erdogan's premiership, as specially authorized courts with extraordinary powers. They were designed by the AKP government to persecute its critics and opponents in politically motivated cases.[5]
The decision to seize the companies was not preceded by a proper hearing and was conducted in disregard of Turkish laws setting conditions for such confiscation of private business assets, and also in disregard of Turkish constitutional protections for media organizations. While the law stipulates that the trustees must be independent, most of those appointed are partisan, i.e. AKP members or their relatives. The trustee for the Koza media group was formerly a director at the staunchly pro-AKP Sabah and ATV media, and is closely affiliated with Erdogan's son-in-law and the latter's brother.

Citizens and journalists protesting in support of Ipek Media Group, a Koza Ipek Holding company.  Source: Cumhuriyet, October 27, 2015
Earlier, on September 1, 2015, police had raided the offices of Koza Ipek Holding, and collected computers, documents, and so on for inspection. The government alleged that conglomerate founder and chairman Akin Ipek, who is currently in London, had provided financial support to the U.S.-based Islamic leader Fethullah Gulen, Erdogan's once-close ally and now his archenemy.
The October 26 announcement of the government seizure of the conglomerate outraged opposition politicians, legal experts, and independent journalists in Turkey, who called it a political grab to silence media critical of the AKP government and an attempt to add Koza's Bugun TV, Kanalturk TV, and two daily newspapers to the ranks of partisan pro-AKP media - which already comprise some two-thirds of Turkey's media.
On October 26, 2015, the liberal writer Ahmet Altan said on Ipek Group's Bug├╝n TV that Erdogan and his advisors are running the government like a mafia, and no longer care about the constitution or the law: "They want to intimidate the critical media and are testing the waters with Koza ─░pek," he said, adding, "If they get away with what they are doing to Koza ─░pek, they will go for the next target, which is Ayd─▒n Dogan's media group, and others."
Former Erdogan Advisor: More Seizures To Follow
The next day, October 27, 2015, former Erdogan advisor and speech writer AKP MP Aydin Unal vowed, on the pro-AKP A-TV channel, that immediately following the November 1 election, similar actions would be taken against the Dogan Media Group's Hurriyet, the independent daily Cumhuriyet, the Gulen-affiliated daily Zaman, and the mainstream daily Sozcu. These are the only remaining major media organs that are critical of, and independent of, the AKP government. Unal added that these outlets would be made to pay for their insults to the AKP government.[6]
The same day, leaders and MPs of all the opposition parties, along with many prominent journalists and representatives of various organizations, visited Ipek media headquarters to offer their support. Over 1,000 viewers, readers, and fans of Ipek media organs lined the street to protest against the seizures, chanting slogans for free speech and democracy and against dictatorship. The Ipek Holding's attorney read aloud from the expert testimony with which the prosecutor had used to persuade the judge to order the confiscation of the privately held conglomerate; it stated that multiple inspections and examinations of the companies' records had yielded not one fault or mistake - and that such perfection in the company's finances was cause for "strong suspicion."[7]  

Headlines in Bugun and Millet dailies: "A Black Day for our democracy, our freedom and for Turkey." October 26, 27, 28, 2015.
"Black Day For Democracy": Turkish Police Storm Headquarters Of Media Outlets Critical Of AKP And Erdogan - Using Tear Gas, Arresting Journalists, Taking TV Channels Off Air During Live, In Violent Seizure Of Ipek Media
In the early morning of October 28, 2015, a large special operations police force, equipped with gas masks, batons, pepper gas, and armored water cannons, arrived at Ipek Media Group's offices in Istanbul, where a large crowd of citizens had remained all night in support of the media group. The police dispersed the crowd with tear gas and water cannons, arresting many, before breaking through the gates to the building. Once inside, they fired tear gas and, going floor to floor, they beat employees, handcuffing any who resisted, as CHP MPs on the scene tried to stop them, citing the unconstitutionality of their actions and noting that they had presented no court order. BugunTV general manager Tarik Toros attempted to prevent police from entering his broadcasting room, but they entered forcibly, pulled the plug mid-broadcast, dragged him outside, and handed him a notice stating that he was fired. Toros told reporters outside that he had done all he could to keep the channel on the air, and the crowd cheered him, chanting "The nation is proud of you." Many journalists, as well as some CHP and MHP politicians, were hospitalized.
Earlier, police had shut down the other Ipek Media Group channel, Kanalturk.

Bloodied press ID card. Source: Zaman, October 28, 2015.

Hurriyet, October 28, 2015

Hurriyet, October 28, 2015

BugunTV director Tarik Toros and note of dismissal, Hurriyet, October 28, 2015
On October 29, 2015, Turkey's Republic Day, trustees prevented the printing of the Bugun and Millet dailies as well.
The U.S., the European Parliament, the International Press Institute, the Organization for Security and Cooperation in Europe (OSCE), Turkey's influential Industrialists and Businessmen Association TUSIAD, jurists, academics, and many others have expressed their grave concern over the seizure of Koza Ipek Media and freedom of the press in Turkey, and have demanded that the government reverse this action and ensure open and fair elections in Turkey.[8]
Silencing Opposition Media; State-Owned Radio Television Corporation (TRT) Acts As AKP Partisan Media, Boycotts Opposition Leaders
In early 2015, the AKP government had shut down some 800 opposition websites, most of them Kurdish. Recently, many streaming and cable companies, including the Turkish satellite corporation (TURKSAT) removed seven independent TV channels critical of the AKP government, on government instructions. On October 24, 2015, Cumhuriyet published a recording on October 24 in which a senior advisor to Erdogan stated that he would have TURKSAT, on whose board he sits, stop providing satellite services to TV channels critical of the government, with the aim of silencing them.[9]
Opposition parties have complained that the state-owned TRT, with its 12 channels nationwide, is discriminating against them by disproportionately allocating coverage time to the AKP election campaign. They argued that this taxpayer-funded institution is acting like the AKP's partisan media organ. According to an official report, from October 1 through October 25, TRT allocated 29.8 hours of broadcast time to President Erdogan and his activities, 30 to Prime Minister Ahmet Davutoglu, and five to Kemal Kilicdaroglu, the leader of the main opposition CHP party, 70 minutes to Devlet Bahceli, leader of the National Movement Party (MHP), and 18 minutes to Selahattin Demirtas, co-chair of the Kurdish Peoples' Democratic Party (HDP).[10] TRT has hosted an AKP official 37 times, and CHP, MHP, HDP officials - zero.[11]
Mob Violence Against Hurriyet Led by AKP MP; Journalist Severely Beaten By AKP Hitmen
Turkey's largest media group, Dogan, and its flagship daily Hurriyet, have been a constant target of attacks by Erdogan and the AKP and its partisan media, especially since the June 7 elections. These independent mainstream media organs are being accused of treason propagandizing for the Kurdish PKK organization and for the HDP, calling them "terrorists," and of being pawns and agents of Western countries "plotting against Turkey."
On the evening of September 6, 2015, hours after a deadly PKK attack in southeastern Turkey, a mob of 150-200 people attacked security personnel outside Hurriyet headquarters in Istanbul's Bagcilar district, forcing their way inside to the main doors of the building and smashing it with stones and clubs. They also lowered the Hurriyet flag from a flagpole and burned it, chanting "Allahu Akbar" and "Recep Tayyip Erdogan." The mob was led by Abdurrahim Boynukalin, an AKP MP and the head of the party's youth organization, who in a fiery speech to the crowd equated Hurriyet, the Gulen-affiliated Zaman, the PKK, and the HDP, calling them all "terrorist organizations." Lashing out at the HDP's election slogan ("We will not make you [Erdogan], a [powerful] president") he repeatedly vowed to make Erdogan an executive president, "whatever the results of the November 1 elections. Then, all these terrorists will get the hell out of this country."[12]
Two days later, on September 8, 2015, Hurriyet headquarters in Istanbul and its printing center in Ankara were attacked by a mob from the AKP-affiliated militant youth group Ottoman Hearth, swinging clubs and throwing stones. The mob forcibly entered the building, chanting "Allahu Akbar." These attacks triggered a national and international outcry and condemnation. Hurriyet chairwoman Vuslat Dogan Sabanci vowed that the newspaper would continue its independent journalism, without fear.[13] All the suspects arrested in the two attacks on Hurriyet were later released. Erdogan did not condemn these attacks.
Following these attacks, a video surfaced online of AKP MP Boynukalin talking to friends and mocking Hurriyet columnist and CNNTurk TV host Ahmet Hakan and Hurriyet editor-in-chief Sedat Ergin, calling them cowards for their fearful reactions to the violent attacks in their building. He said: "It is our mistake that we have not given them a good beating in the past" and added that he was contemplating lying in wait for Hakan near his home in order to give him a scare. Hakan has also been threatened by columnists in the partisan media; pro-AKP columnist Cem Kucuk wrote, addressing him: "...You think that you still live in the time when Hurriyet was running the country. We could crush you like a fly if we wanted to. We have been merciful until now, and that is why you are still alive."[14]
Just after midnight on September 30, Hakan was severely beaten by four men near his Istanbul home, as he returned home from hosting his program on CNNTurk TV. He was hospitalized for a broken nose and ribs. The assailants were found to be registered AKP members.[15]
Additionally, almost daily the AKP media threaten Dogan Media Group owner Aydin Dogan.[16]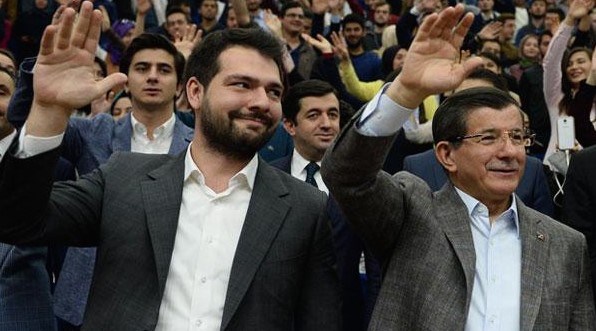 AKP MP Abdurrahim Boynukalin, who led mob attack on Hurriyet media headquarters in Istanbul, with Prime Minister Ahmet Davutoglu at a campaign event. Photo: Hurriyet, October 28, 2015.
392 Journalists Face Prosecution For "Insulting Erdogan"
According to the Turkish Publishers' Union 2015 Press Freedom Report, between June 2014 and June 2015, 392 journalists and publishers have been charged in Turkey for "insulting the president," and many are in prison.[17] Independent and mainstream journalists spend more time in court houses than on the job; many journalists have lost their jobs due to Erdogan's pressure on their employers.[18]
Children Face Prison Time, Separation From Family For Tearing Down Poster Of Erdogan
Two cousins from Diyarbakir, aged 12 and 13, were arrested on charges of "insulting the Turkish president" by allegedly tearing down posters with a photo of President Erdogan. The children said that they did not know whose photo was on the poster, and that they had only intended to sell the posters to a junk dealer.
Under Article 299 of the Turkish Criminal Code (TCK), cases of "defaming the Turkish president" must be approved by the Justice Ministry in order to be filed; the ministry approved the arrests. Also according to Article 299, if found guilty, the children will, after serving their time, be sent to a children's home, not back to their parents.
Dozens of children are being prosecuted in Turkey under similar charges, most of them for comments they have made on social media.[19]
Freedom House: Internet Freedom "Highly Imperiled" In Turkey; Turkey Is No. 1 In Twitter Censorship; Censorship Undermines Fairness Of Upcoming Elections
The Freedom House NGO's report on Internet freedom, released October 28, 2015, detailed cases in Turkey of significant restrictions of online freedom. The number of websites blocked in the country has reached 81,525,  double the figure of blocked websites two years ago. This number includes websites blocked "for political or social reasons, such as news outlets or online communities that report on LGBT issues, ethnic minorities, anti-Muslim content, or social unrest," it stated.
According to Twitter's latest Transparency Report, requests by Turkish authorities to remove content have increased dramatically since Twitter started publishing data in 2012. According to the data, 92% of all court orders and 55% of administrative requests received by Twitter from around the world in the past six months originated in Turkey. The report also highlighted that legal action has regularly been taken against Turkish social media users over their online activity, particularly for alleged "insults" against Erdogan. The report stated: "Over the past year, dozens of Twitter users were subject to prosecution, mostly on charges of insulting government officials. Erdogan has filed criminal complaints against at least 67 people for 'insulting' him online, since he was elected president in August 2014. In addition to journalists, students have increasingly been prosecuted for defamation." It added that constant legal intimidation has a chilling effect on free speech online.[20]
In Open Letter To Erdogan, 35,000 Journalists From 120 Countries Warn About Danger To Press Freedom, Fair Elections In Turkey
The World Association of Newspapers and News Publishers (WAN-IFRA), World Editors Forum (WEF), International Press Institute (IPI), and International PEN, which together represent tens of thousands of journalists and news publishers worldwide, wrote an open letter to Erdogan. The letter was also signed by 50 prominent international editors, from The New York Times, The Washington Post, La Stampa, Die Welt, El Pais, The New Yorker, the AFP, and many others.
Enumerating the recent attacks on journalists and media outlets in Turkey, including the attack on Hurriyet headquarters, the beating of Hakan, and the seizure of Koza ─░pek Media group, the letter added: "On the eve of an important election on Nov. 1, which will be of concern and interest to those in Turkey and internationally, the Turkish government's failure to support and to protect journalists where necessary is undermining the country's international reputation and damaging its standing as a democracy. We share widespread concerns that recent events are part of a concerted campaign to silence any opposition or criticism of the government in the run up to the election." It concluded: "We urge you to foster a culture where press freedom is fully respected."[21]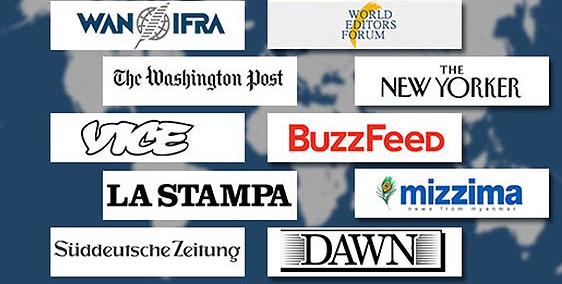 Image accompanying report on letter. Photo: Zaman, October 30, 2015.
*R. Krespin is Director of MEMRI's Turkish Media Project. 
Endnote: