On October 5, 2017, Saudi King Salman met with Russian President Vladimir Putin.[1] The Russian leader described the meeting as "substantive, meaningful and confidential." Putin stated: "This is the first-ever visit by Saudi Arabia's king to Russia in the history of our relations… It is a very significant event."[2] He then added: "I am certain that your visit will give a good impetus to the development of our inter-state relations."[3]
The two leaders tackled bilateral relations and the situation in the region. Concerning Syria, King Salman said: "A political solution must be achieved that would guarantee security, stability, unity and territorial integrity of Syria." Concerning the oil market, the Saudi monarch said: "We are committed to continuing positive cooperation between our nations to achieve stability on the global oil markets, which will facilitate growth of the global economy."[4]
During the King's visit, Russia's arms exporter Rosoboronexport and the Saudi Military Industries Company signed a memorandum on "the purchase and local output of military products." It was also signed a contract on the production of Kalashnikov AK 103 assault rifles and cartridges in Saudi Arabia. Russian Foreign Minister Sergey Lavrov and Saudi Minister of Energy, Industry and Mineral Resources Khalid Al-Falih also signed an agreement on bilateral cooperation in "outer space exploration and use for peaceful purposes."[5] Russian news agency Tass reported that a roadmap on trade-economic and scientific-technical cooperation for the midterm was also signed by Russian Energy Minister Alexander Novak and the Saudi Minister of Commerce and Investment, Majed bin Abdullah Al-Qasabi.[6]
Novak, who co-chairs the Russian-Saudi inter-governmental commission, said that the two countries have potential for developing nuclear power cooperation, since Saudi Arabia is planning to launch a nuclear power program. Novak said: "Nuclear power may become one of the basic sources and an extra catalyst for the development of various industries and innovation technologies in Saudi Arabia. Cooperation in that sphere would be a logical confirmation and prolongation of strategic cooperation between our countries."[7]
Russian Deputy Prime Minister Dmitry Rogozin also said that Saudi Arabia showed interest in buying the S-400 missile systems. "Talks on S-400 are in progress, but there are no final decisions yet," divulged Rogozin.[8]
King Salman invited Putin to visit Saudi Arabia and Putin accepted the invitation. On October 6, the Saudi monarch will meet Russian Prime Minister Dmitry Medvedev. The visit will end on October 8.[9]
The following are excerpts from an analysis published by the Russian think tank Valdai Discussion Club, titled "What To Expect From The Saudi King's Historic Visit To Russia," authored by Middle East expert Nikolai Sukhov, senior research fellow at the Institute of Oriental Studies of the Russian Academy of Sciences (RAS).[10] Suslov argues that the improved relations with Russia reflect Moscow's self-empowerment in the Middle East thanks to its military intervention in Syria and the diplomatic front that it has managed to establish with Ankara and Tehran.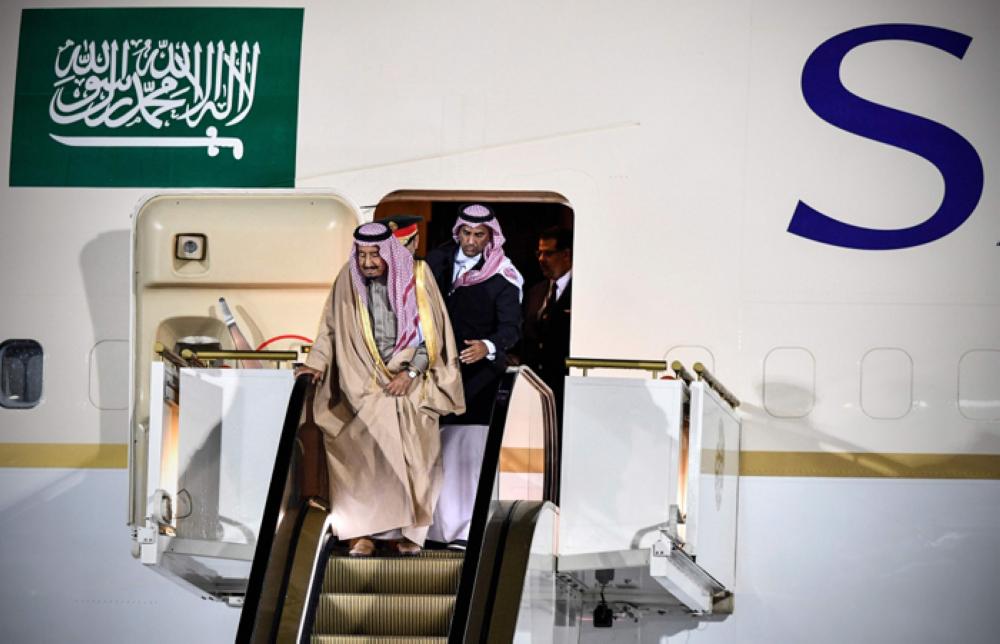 King Salman's arrival in Moscow (Source: Saudigazette.com.sa)

Saudi King Salman with Russian President Vladimir Putin (Source: Kremlin.ru)
'The Russian Leadership Is Trying To Take Advantage Of A Good Moment To Soften Saudi Positions On Syria'
"Ahead of the historic first visit of the King of Saudi Arabia to Russia, a number of experts said that this event may be delayed, as has already happened a number of times since June 2015, when President Putin invited King Salman to visit Russia. These worries were fuelled by the near complete absence of articles on the topic in Saudi media. … [Nevertheless] the Saudi business community is preparing a powerful 'landing party' for Russia, of up to 700 people, in hopes of creating new and developing existing ties with Russian companies.

Saudi King Salman with Russian President Vladimir Putin (Source: Kremlin.ru)
"The initial invitation to visit Moscow was given to then-monarch Abdullah during the first-ever Russian presidential visit to Saudi Arabia in February 2007. The repeated delay of the planned visit can be seen as an indication of problems that existed in the two countries' relations.

Saudi King Salman with Russian President Vladimir Putin (Source: Kremlin.ru)
"The root of these problems goes back to the Soviet War in Afghanistan, when Soviet troops were confronted by armed groups, sponsored, among others, by Saudi Arabia. Today, some members of the Saudi elite are convinced that their state defeated the Soviet Union, and in their eyes, Russia continues to be the defeated side. This is also the reason why Saudi leaders see their country as a 'great power' without any irony. During the 1990s and 2000s, various foundations in the Persian Gulf, including in Saudi Arabia, actively and generously aided insurgents in the Northern Caucasus. This recent history does not aid trust and the creation of a positive atmosphere in bilateral relations.
"After the conflict in Syria began in 2011, relations between the two countries were de facto suspended until 2015, when King Salman assumed the throne and sent Crown Prince Muhammad bin Salman to meet the Russian President in June of the same year. Since then, one could observe a certain warming of bilateral relations. Among factors that influenced the rapprochement of Russia and Saudi Arabia, the most significant is the successful Russian Aerospace Forces operation in Syria. It is obvious that the turning of the tide in this country and the return of 85% of territory to government control is forcing Saudis to speak of 'common goals' of Russia and Saudi Arabia not only in Syria, but also in Iraq, Yemen and Libya. Russia's victories noticeably increased the authority of Russia in the region, including in Saudi Arabia. Nevertheless, the war in Syria remains the main source of contradictions between Moscow and Riyadh. It must be recognized that the foreign policy of Gulf monarchies is rather reflective and depends on the changing situation. Today, they appear to have come to terms with the failure of this project and are ready to coordinate their actions with Moscow. The Russian leadership is also meeting them halfway, recognizing the new opportunities and trying to take advantage.

Saudi media outlet Saudi Gazette quotes Saudi FM Adel Al Jubeir on Saudi King's visit to Russia (Source: Twitter.com/Saudi_Gazette, October 5, 2017)
Saudi media outlet Saudi Gazette cites Saudi FM Adel Al Jubeir again on Saudi King's visit to Russia (Source: Twitter.com/Saudi_Gazette, October 5, 2017)
"Both states recognize the role and significance of each other geopolitically. Russia engages closely with Turkey and Iran, and not only on Syria, but also on Central Asia with the latter. Both states are rivals of Saudi Arabia in the region. In recent months, there was also the Qatar crisis, during which, both of Russia's tactical allies took the side of the disfavored state [The author considers Qatar to be the 'disfavored state']. For the ruling House of Saud, it is important to strengthen political and economic ties with Moscow to weaken its movement toward Tehran and Ankara. In an interview with the Washington Post, Muhammad Bin Salman rather earnestly formulated the goals of Riyadh in relation to Moscow, saying, 'The main objective is not to have Russia place all its cards in the region behind Iran.'[11]
"Saudi Arabia also attaches great significance to strengthening ties with Russia in the context of relations with the U.S., whose Middle East policy has been perceived negatively in recent years by both the ruling elites of the Gulf monarchies and their people. The Russian leadership is trying to take advantage of a good moment to soften Saudi positions on Syria and end the support of Islamist groups from non-profit foundations and private donors in the Gulf countries.
'The Tiniest Show Of Weakness Or Miscalculation Could Easily Destroy The Axis Of Love'
"Riyadh has increased difficulties not only internationally, but also internally, as growing budget deficits and unemployment threaten to cause an explosion of social unrest. Because of that, the economic factor plays a significant role in rapprochement between Moscow and Riyadh. Mutual interest in supporting oil prices and preventing their fall helped overcome disagreements and agree on reducing oil output in December 2016. Information is also being leaked on Russian-Saudi cooperation in the oil sector, regarding Rosneft, Sibur, Transneft, Lukoil and other companies' participation in completing megaprojects in Saudi Arabia and Saudi Arabia's participation in Russian projects on the Arctic shelf.
"These prospects are part of the modernization program Vision 2030 enacted last year.[12] Saudi businesses are ready to consider any sectors of cooperation that make possible the localization of production, transfer of Russian technologies and profitable investments into the manufacturing of products that are in demand in both Saudi Arabia and the Middle East as a whole. It is no accident that hundreds of Saudi entrepreneurs are following King Salman to Russia.
"Russia is counting on money from Saudi funds. Saudi Arabia is actively investing colossal funds that it accumulated in previous decades. In June 2016, Saudi Aramco Chairman and Saudi Oil Minister Khalid A. Al-Falih, together with the Russian Direct Investment Fund declared that they intend to create a joint $1 billion investment fund. This is a more delicate approach than direct offers to give up pursuing an active policy line in the Middle East in exchange for investments in the Russian economy, made by a Saudi prince in 2013. However, it should be understood even today that the volume of investments will change proportionally to the state of bilateral relations.
"It is no question that it has been and remains difficult for our two countries to negotiate, but the possibility exists, which recent experience confirms. Moscow and Riyadh supported the transition of power in Egypt in 2013, while Cairo's purchases of Russian weapons were only possible with financial aid from Saudi Arabia. Of course, the greatest success in bilateral relations was the agreement to reduce oil output.
"In conclusion, it is necessary to mention that to achieve real agreements and have them carried out, the Russian government and business community will have to talk to the Saudis from a position of strength, drive the hardest bargain even on issues that appear inconsequential, while at the same time considering the cultural and psychological peculiarities of their partners. The tiniest show of weakness or miscalculation could easily destroy the 'axis of love' that is being talked about in the Gulf monarchies, instantly returning Russian-Saudi relations to the previous low level."
---