On October 18, 2017, TV host, L'Officiel Russia editor-in-chief and socialite Ksenia Sobchak announced her intention to run in the 2018 presidential elections. The Russian opposition is inclined to consider Sobchak's candidacy a Kremlin political project aimed at undermining support for opposition leader Alexey Navalny; however, according to anther theory, she simply decided on her own to run.
It is worth noting that Sobchak is the daughter of Anatoly Sobchak, President Putin's political mentor and former mayor of Saint Petersburg.
Sobchak announced her candidacy in an open letter in Vedomosti, the newspaper that first hinted that the presidential administration is considering allowing her to run. She concluded her open letter with the phrase "Against Everyone," which has become her campaign slogan.

Ksenia Sobchak (Source: Facebook.com/sob4ak, October 18, 2017)
Below are excerpts from Sobchak's open letter, followed by reactions to her candidacy:
Sobchak's Open Letter: Ksenia "Against Everyone"
In her open letter in Vedomosti, Sobchak wrote:
"The Decision is taken.
"Enough keeping silent. I have been thinking of it for a couple of months. It's not because that's women's nature – to try and measure everything according to their size – but because that's what I am. I consider all the opportunities as a challenge. During the last five years, since the wave of protests in 2012, my political views have finally crystallized, and I'm ready to make them public and defend them on any high level.
"I'm Ksenia Sobchak, 35 years old. All my life I've lived and worked in Russia, and I'm not indifferent to the future of my country. I take any action in the public sphere with great responsibility, and after having understood all the risks and the unbearable complexity of the task, I have decided that my running for election might be the step towards the changes that are badly needed by our country.
"Despite the attempts by the bureaucracy to compromise me and use me to reach its own goals, despite the attacks by some of my liberal friends, despite the opinions of the 'sofa political experts,' [I believe] my candidacy can and should be useful, either for the opposition or for all society. In the upcoming days, apparently, I will have to explain my position numerous times, so I want to lay down my central arguments.
"What should be done?
"It is likely that the upcoming election in general is not the best choice. The main candidate is contested by those who have long been fatiguing the voters and who have neither the desire nor the strength to change anything. Those who can bring change and who likely would accomplish the task will perhaps not be allowed to run. These are not the elections that we see in our dreams for the sake of our future.
"It is only we who might fix this. Every one of us can and should voice their position; their disagreement with the authorities who want to run unreplaced for a quarter of century; their disagreement with education and health care, which are falling apart; their disagreement with the monstrous corruption and propaganda, that has infected all of society from the rural school to the Kremlin; their disagreement with overall [suffocating] powers of the siloviki [security apparatus], wars, and international isolation.
"In order to have this conversation, we need to seize any opportunity – communicating either at home or at work, discussions in the social media, demonstrations. There will be no social change without the majority, which is beginning to realize that it is not expendable. And yes, we need to use these elections in order to publicly discuss the shortfalls of our authorities, as well as to sharpen the skills of our opposition. We should not ignore the elections as a social institution, as the main means of social representation – the basis for real democracy. This is despite the fact that for the past few decades, this institution has never performed as it should, because really free elections are not just about fair voting, they are about free and equal access to participation and agitation, fair tallying of the votes, and results that are accepted by society.
"The elections that are coming up in March will be far from that. They are already far from that. But should we ignore them, or boycott them? No. We should prepare by participating, and change them through participation. We should collect signatures, demand registration, and vote. This is how the most prominent and successful opposition leaders are already doing it. In order to win a marathon, we need to train, to participate, and to demand fair judging.
"Municipal elections in Moscow have just concluded. In some districts, the opposition has significantly pushed the ruling party; in others, the opposition has won. Likely, if voter turnout was higher, the opposition's results would have been even better. All the opposition forces called on Muscovites to vote, despite the government's total informational blockade. Had the opposition, or the Muscovites, expected that these elections would be fair? expecting that this would have been fair elections? No! But we hoped to make them fair. The best of us [were hoping to make  the elections fair] by running, the rest, by voting.
"You say that the presidential elections are organized differently? You say that given the predefined outcome, the authorities want to increase [voter] turnout and create visible legitimacy? I'll tell you: What does it matter what the authorities want? What matters is what we really want. In contrast to the authorities, we should be successful in our beliefs and actions. Elections are a very important democratic institution, and we must take any opportunity to discuss the situation in which society is living, and to express our dissent.
"Is boycotting the elections, and non-participation if the opposition leaders – first and foremost Alexey Navalny – are not registered [as candidates], a correct way to demonstrate this descent? I think not. Non-participation, keeping silent during the boycott, is being mixed up with the indifferent silence of lazy people. Keeping silent and boycotting does not allow society to see the real numbers of the displeased who are looking for change and renewal in the country.
"By giving up a legal and safe but still such a significant expression of our opinion as voting in elections – even if they are controlled, imperfect, and unfair – we leave ourselves no choice but confrontation on the streets, which is not for everyone and should be the very last resort of the political struggle. Recent history has multiple examples of when elections, apparently controlled by the authoritarian powers, turned into instruments of real democratic change. This always happened when the opposition participated in the elections – and never happened when the opposition was silently absent.
"In the dramatic days of October 1993, one more legal instrument of 'active boycotting' elections appeared in Russia – the one that some of our opposition is calling for endorsing: By presidential order, the ballots showed up with one additional line – 'Against Everyone.'
"This is a legal and totally peaceful means to express civil dissent regarding the election process, candidates, or the authorities, which never change. Years ago, the [current] authorities, which treat legal election processes as they please, depending on their tactical needs, deprived us of this instrument. By participating in the upcoming elections, I want to get that instrument back.
"Ksenia Sobchak represents the phrase 'Against Everyone.' You are against the situation in which only Yavlinsky, Zuganov, and Putin are on the ballot – or is it their substitutes? You want to express your active position,  but your candidate was ineligible? You don't have a candidate? Mark 'Ksenia Sobchak.' You aren't electing her president. You are just taking a legal and peaceful opportunity to say: 'Enough. We are fed up!'
"How it should be done?
"I am running for office not just as a candidate, but as a voice for all those who are not 'eligible.' I'm ready to express claims against the current system – claims coming from every side of the political spectrum, right to left, since the problems of corruption, lack of accountability, and change in the current authorities are greater than our ideological contradictions...
"I invite all political forces are ready to do so to use my candidacy as their platform for making claims against the current situation in the framework of my campaign.
"Why me?
"Unlike perpetual candidates who have to explain why they deserve to be president of the Russian Federation, my task is easy. I [only] need to explain why I deserve to run 'against everyone."
"I do not adhere to rigid ideological boundaries. I don't belong to any sector, am not limited by any party or group discipline. In the framework of this campaign, I'm not even for or against the slogan 'Crimea is ours.' I support ending total corruption, I support the emergence of real politics, and I support authorities who are accountable to the people who voted. These people will decide on their own how they should live, and they will, on their own – together with the international community and our neighbors – decide to whom Crimea actually belongs...
"I'm against revolutions. But I am a good organizer and middleman. Alexey Navalny proposed to the current highest echelons to leave peacefully – this is very right and important for the procedure of transition of power in the country. But they won't believe him. They will believe me. I can talk to everyone – because I personally know the majority of Russian elites, and because I'm a journalist, whose job is to talk to everyone...
"Perhaps I am too romantic. But there are enough cynical politicians. On the other hand, I'm smart enough to grasp that the authorities will want to use my candidacy in order to legitimize these elections... By allowing me to run, the authorities will seek to show that the full political spectrum is present – as if my candidacy solves the problem of other candidates who have not been allowed to run. But as a candidate 'against everyone,' I refuse to play an assigned role and take the place of another. That's why I say loud and clear: I will say how bad the situation in the country is. I will say that the system should be changed. I will demand that Navalny's candidacy be registered, and that all political prisoners be released...
"If other representatives of the liberal opposition, including, first and foremost, Alexey Navalny, are registered to run, I am willing to coordinate my efforts with them, and [if this happens] I am willing to withdraw my candidacy. If, under these circumstances, the Russian citizens support me, and I am registered to run, I will stand for my views. I think that this is useful for the political climate in the country. If I am not registered [as a candidate] after having said what I said – this is also useful, because it makes the system's hypocrisy clear.  
"I know that I am a controversial figure. I'm a journalist, 'chocolate blond,' a daughter of a reformist, a member of the coordination council of the Russian opposition. I might be not your candidate – but my candidacy, according to the aforementioned positions, is beneficial for the voters and for the Russian political system…
"Yours, Ksenia Sobchak 'Against Everyone.'"[1]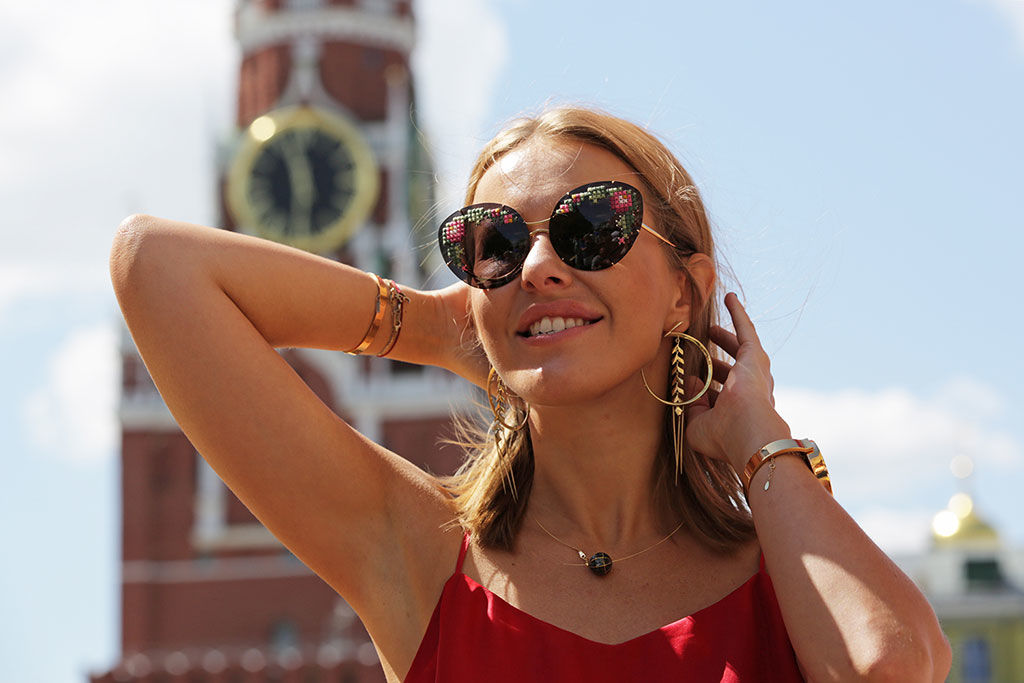 Ksenia Sobchak (Source: Vedomosti.com, October 18, 2017)
Kremlin Spokesman Peskov: Sobchak "Definitely Has Chances Of Achieving Success In Politics"
Russian presidential spokesman Dmitry Peskov said: "Ksenia is a very talented person, she has experience in various spheres, and she is educated well enough... But if she has plans to become a politician, she should start from a clean slate and gain experience, because politics is very different from journalism and show business... Politics, first and foremost, is based on the people's will, it is the main principle... If [Ksenia] proves capable of responding to it, then she definitely has chances of achieving success in politics."
He added that Sobchak "meets the requirements mentioned in our Constitution [and may] definitely [run for office] after completing all the necessary procedures and formalities prescribed by law."[2]
Navalny: Sobchak's Views On Economics Are "Quite Cannibalistic"
Asked whether he supports Sobchak's candidacy, opposition leader Aleksey Navalny replied: "I like some people more, and others, less. But everyone may run."
Earlier, in September, Navalny commented on the possibility that Sobchak might launch her candidacy, urging her not to run in an "ugly Kremlin game." He also called Sobchak's views on economics "quite cannibalistic."[3]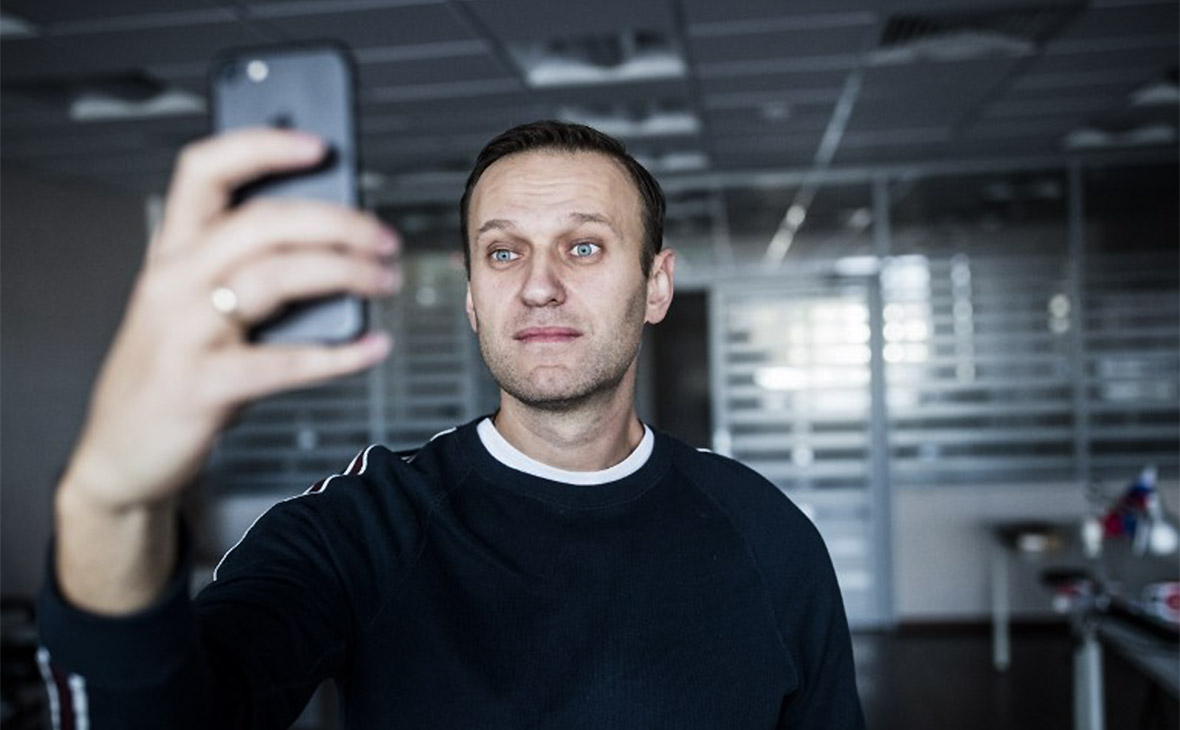 Alexey Navalny, RVC.ru, October 22, 2017.
Deputy Duma Speaker Melnikov: "The Only Reaction" To The News Of Her Candidacy "Is To Smile"
Ivan Melnikov, Vice-Speaker of the State Duma, Communist Party member, said: "The only reaction to this news [of Sobchak's candidacy] is to smile, though it's unclear whether the smile should be ironic or sad. You can guess why this campaign is happening, and what will happen in the end is just as predictable."[4]
Khodorkovsky: Sobchak "Can Help People Understand The Essence Of Voting Without Choice"
Mikhail Khodorkovsky, head of the Open Russia movement and former oil tycoon, said: "I watched Sobchak's speech. And you know what? There's something in this! She really can help people understand the essence of 'voting without choice.'"[5]
Yabloko Member Katz: "Will [Sobchak] Just Call [Putin] Names, Or Will She Offer Real Explanations About Why Putin Can't Be Re-Elected After 18 Years In Power?"
Maxim Katz, liberal Yabloko party member, said: "Until today, I was pretty neutral about Ksenia Sobchak's presidential candidacy. There are two theories about how this happened, and I consider them both plausible, since I wasn't there to witness it.
"The first is that the presidential administration is looking for ways to attract attention to the elections, and it asked Ksenia to act as sparring partner, like it did with Prokhorov [in 2012].
"The second theory is that Ksenia decided on her own to run for office. Having been interested in politics for a long time, she's decided to act on this now.
"In support of the first theory, people say that Ksenia has spent the past few months actively polemicizing with Navalny, while remaining silent about Putin.
"In support of the second theory, people point out that Ksenia has been interested in politics for a long time. She was even elected to a seat on the opposition's Coordinating Council, coming in fourth, and all without orders from Putin. Ksenia can also leverage her five million subscribers as a media resource.
"To figure out which of these theories is correct, we can observe what Ksenia does, going forward. Whom will she criticize? Navalny and Yavlinsky or Putin? Will she mount a quality anti-Putin campaign? Will she just call him names, or will she offer real explanations about why Putin can't be re-elected after 18 years in power?
"Or will it be a campaign against the other candidates, against the system as a whole, and against the injustice of the world, but just not against Putin?"[6]
Parnas Leader Kasyanov: "It's Still Early To Consider Sobchak's Candidacy A Way Of Taking Votes From Other Opposition Candidates"
Mikhail Kasyanov, former Russian prime minister and leader of the political liberal party Parnas, said: "I've always supported free elections, so if Ksenia feels up to this, then I've got nothing against it... It's still early to consider Sobchak's candidacy a way of taking votes from other opposition candidates, since we still don't know who else will be running. So far, only [Yabloko leader Grigory] Yavlinsky can run. Navalny can't [because of his felony record], [Levada Center polling agency director Lev] Gudkov doesn't want to, and I've said that I won't run. That's everybody. There's no one else."[7]
2004 Presidential Candidate Khakamada: "The Kremlin Long Ago Made A Farce Of All Our Elections. Ksenia Is Playing Up This Same Farce"
Irina Khakamada, 2004 presidential candidate and public figure, said: "I've understood for a while now that Ksenia would run. The news for me was that she's presenting herself as 'against all.' I don't know the whole story here, but it's an interesting idea... The Kremlin long ago made a farce of all our elections. Ksenia is playing up this same farce, only it's 'against all.' Alexey Navalny's nationwide rating isn't so high: from two to three percent – five, max. Ksenia's numbers are the same, from two to three [to] as high as five."[8]
Communist Leader Zyuganov: Sobchak's Candidacy Can Make The Election "A Tragic Farce"
Russian Communist Party leader Gennady Zyuganov said that Sobchak's nomination is capable of "turning the forthcoming election into a tragic farce." He added: "Some spin doctors, though it would be more correct to call them political waste managers, must have made a decision to boost turnout in this way. It won't work. Anyone in his right mind familiar with the real picture will say: 'Come on, are you inviting me to participate in this cheap show?'... Don't you turn the election into mockery."[9]
LDP Leader Zhirinovsky: Sobchak Is A 'Dummy Candidate'
Liberal Democratic Party (LDP) leader Vladimir Zhirinovsky said: "A candidate for president should be a person who has been in politics for many years... This person has not traveled across the country. [Sobchak] does not know anything and has not managed anything, and lacks the required knowledge. This is simply alarming. First, no one will [elect] her. [She] is a fake and [a] dummy candidate."[10]
[1] Vedomosti.com, October 18, 2017.
[2] Tass.com, October 18, 2017.
[3] Rbc.ru, October 22, 2017.
[4] Meduza.io, October 19, 2017
[5] Meduza.io, October 19, 2017.
[6] Meduza.io, October 19, 2017.
[7] Meduza.io, October 19, 2017.
[8] Meduza.io, October 19, 2017.
[9] Tass.com, October 23, 2017.
[10] Tass.com, October 19, 2017.