The following are some of this week's reports from the MEMRI Jihad and Terrorism Threat Monitor (JTTM) Project, which translates and analyzes content from sources monitored around the clock, among them the most important jihadi websites and blogs. (To view these reports in full, you must be a paying member of the JTTM; for membership information, send an email to [email protected] with "Membership" in the subject line.)
Note to media and government: For a full copy of these reports, send an email with the title of the report in the subject line to [email protected] . Please include your name, title, and organization in your email.
EXCLUSIVE: Changing Dynamics In The Global Jihad Movement (4): ISIS's Operations And Recruitment In Libya
Introduction
Since the Islamic State (ISIS) announced its "province" in Libya on November 13, 2014,this country has become a hotspot of ISIS activity. In a relatively short period of time, ISIS managed to mount several high-profile attacks againsta variety of targets, including government institutions, foreign embassies, Western economic interests and sites frequented by foreigners, and against Christians and foreign journalists.
Unlike other ISIS provinces declared recently in Yemen, Saudi Arabia, Algeria and Sinai, the Libyan province hasproducedhigh-profile attacks,and has also taken tangible measures to exert its authority in the areas it controls, for instance by establishing governing bodies such as an Islamic court,a religious policing force and a department of education.While the exact extent of the ISIS-controlled areas remains unknown, ISIS'spresence and activities haveclearly expanded well beyond the city of Derna, where it first gained a foothold, spreading westward towards Libya's capital, Tripoli. ISIS recently seized several radio stations in the coastal town of Sirte, half way between Tripoli and Benghazi, and used them to broadcast its propaganda.It also carried out attacks against a security checkpoint in the Tripoli suburb ofJanzour, and detonated a car bomb in Misrata outside the headquarters of Battalion 166, a militia affiliated with the General National Congress (GNC), the self-proclaimedIslamist parliament in Tripoli.
Encouraged by ISIS's successes in Libya, the organization's supporters have beencalling for fighters of all nationalities to make hijra to this country to join ISIS there. ISIS supporters also published articles extoling ISIS's achievements in Libya, while emphasizingthis country's key role as a gateway to both Africa and Europe. They noted the ease of launching attacks from Libya against southern Europe, and warned Europe not to interveneagainst the Islamists in Libya.

 ISIS men inside one of the radio stations captured in Sirte
EXCLUSIVE: Two AQIM Factions Express Support For The Islamic State (ISIS) And Its Leader Abu Bakr Al-Baghdadi
Two Al-Qaeda in the Islamic Maghreb (AQIM) factions have recently expressed support for the Islamic State (ISIS) and its leader Abu Bakr Al-Baghdadi, according to a tweet posted on the account of Abu Al-Harith Al-Tindoufi[1] (@ALTENDOFE) on March 20, 2015.
The tweet stated: "Ajnad Al-Sahel and Liwa' Al-Furqan, which belong to the Al-Qaeda [in the Islamic Maghreb] organization, announce [their] support for the caliphate state."
According to jihadi sources on Al-Fida' forum, Ajnad Al-Sahel operates near the Mali-Niger border and Liwa' Al-Furqan is among the largest brigades in the Sahel region.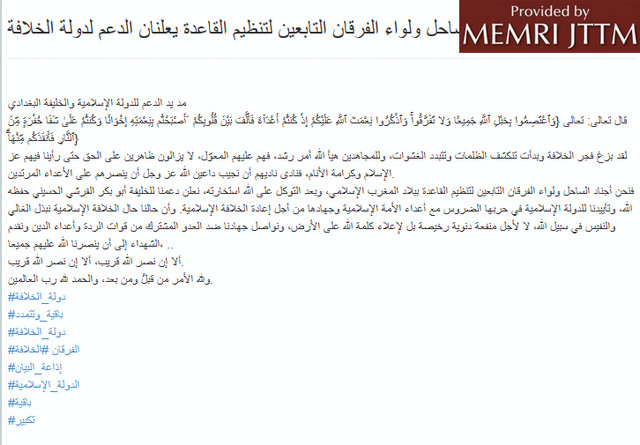 Jabhat Al-Nusra (JN) Supporters On Twitter: Syrian Pilot, Helicopter, And Crew In Idlib Should Be Freed Only In Exchange For Top JN Official Abu Mus'ab Al-Suri
<![]-->
On March 22, a Syrian Air Force helicopter went down in Jabal Al-Zawiya in Idlib province; four crew, including the pilot, were taken prisoner by members of the Al-Qaeda affiliate Jabhad Al-Nusra (JN).
The Al-Fida' jihadi forum posted photos that it claimed were of the crashed helicopter, the capture of the crew, and the crew members' identity cards. One photo, titled "The moment of execution of one of the crew of the helicopter that Allah brought down with his great might," appears to show a JN member shooting and killing one of the prisoners.
<![]-->

Posted photo claimed to be of JN member shooting and killing helicopter crew member 
The helicopter, pilot, and crew falling into JN's hands brought rejoicing among JN members. JN supporters launched a campaign calling for a prisoner exchange deal - the pilot for top Al-Qaeda ideologue Abu Mus'ab Al-Suri, who is in a Syrian government prison - and a hashtag in Arabic, #The Al-Nasiri [i.e. Alawite, or Assad Army] Pilot For Abu Mus'ab Al-Suri, was created.
ISIS Video Shows Assyrian Christian And Former Prisoner Who Converted To Islam
On March 23, 2015, the Islamic State (ISIS) released a six-minute video showing an Assyrian Christian prisoner who converted to Islam.
The man was supposedly imprisoned during ISIS's attack on a number of Assyrian villages in Syria last month. ISIS had subsequently taken over 200 Christians prisoners, but had released at least 24 of them since then.
<![]-->
In Video, Kurdish ISIS Fighters Lash Out At Kurdish Leaders, Armed Groups; Execute Kurdish Captive
On March 23, 2015, the Islamic State (ISIS) released, via Al-Hayat Media, a video featuring a group of Kurdish ISIS fighters delivering various messages. The video, titled "A Message To The People Of Kurdistan," is directed mainly against Kurdistan's political leaders and government, and accuses them collectively of being apostate, atheist, and secular. It calls on the Muslim Kurds to join ISIS, where, it says, they can live under the shade of the caliphate. Telling the Kurdish government that the U.S. and European aid it has been receiving will not help it win the battle against ISIS, it underlines ISIS's continued expansion and its desire to free every inch of Muslim land and beyond. The video ends with the execution of a captive Kurdish policeman.  
The video, 24:21 in duration, was released on the Shumoukh Al-Islam forum. The statements are in Kurdish and the video is subtitled in Arabic. The following are the main points of the video, based on these subtitles:

Khattab (center)
Islamic State (ISIS) Releases Photos Of Perpetrators Of Attack On Houthis In Yemen
On March 23, 2015, "Sana'a Province" of the Islamic State (ISIS) released photos of the five perpetrators of the deadly attacks in Houthi mosques in Yemen last week.
As can be discerned from their names, the suicide bombers are all Yemeni; one is from Sana'a and the rest are from Ibb governorate.  
<![]-->

Nibras Al-Sana'ani
Syrian Human Rights Group Reports On ISIS Recruitment Of Children
A report published yesterday (March 24, 2015) by the Syrian Observatory for Human Rights (SOHR) reveals that the Islamic State (ISIS) has recruited 400 children and teens under the age of 18 in the past year. According to the report, ISIS has opened "Caliphate Cubs" bureaus in Deir Al-Zour and Bukamal that are responsible for recruiting and registering children, with or without their parents' consent. The youths are recruited in the vicinity of ISIS offices and headquarters,  at mosques in the areas under ISIS control, and at public executions and punishments that ISIS stages. The organization also encourages parents to send their children to its training camps.
<![]-->

Children outside ISIS recruitment office
ISIS Supporters Publish Hit-List Of 100 US Military Personnel, With Pictures And Addresses
On March 21, 2015, Islamic State (ISIS) supporters circulated on jihadi forums and social media a document in English by an unknown group calling itself the Islamic State Hacking Division (ISHD). The document contains a hit-list of 100 US military personnel, each with a photo and address. Preceding the list is a message explaining that the group obtained this information by hacking several military servers, databases and emails containing details on personnel in the US air force, navy and army. The message also urges ISIS supporters in the US to assassinate the individuals on the list for their alleged involvement in the campaign against the Islamic State.
MEMRI has a copy of the full list with the names and adresses of the U.S. servicemen.
<![]-->
 
The following are excerpts from the document's introduction, in the original English: 
"O Kuffar [infidels] in America, O You who worship the cross, O You crusaders that fight the Islamic State, we say to you: ÔÇ£DIE IN YOUR RAGE!ÔÇØ, die in your rage because with the grace of Allah, The Islamic State Hacking Division (ISHD) has hacked several military servers, databases and emails and with all this access we have successfully obtained personal information related to military personnel in the United States Air Force, NAVY & Army... With the huge amount of data we have from various different servers and databases, we have decided to leak 100 addresses so that our brothers residing in America can deal with you.
Hacker Entity Attacks Indian, Israeli Websites, Promises Attacks On U.S., Its Allies, Economy
In the last few days, the "Al-Qaeda Electronic Base" - a hacker entity that sympathizes with Al-Qaeda and with the Islamic State (ISIS) - announced that it managed to deface a number of Israeli and Indian websites.
<![]-->
The announcements were posted on the group's Twitter and Facebook pages, as well on Al-Fida' forum. On its Facebook page, the group operates under the Al-Ma'arek Media Production Company. The defaced websites included images associated with Al-Qaeda, as well as the black banner of the Islamic State (ISIS).
Report: Jihadi Arrested In Afghan Province With Explosives In Horse's Saddle
<![]-->
According to an Afghan website, a jihadi with explosives hidden in his horse's saddle has been arrested.
A report on Pajhwok.com noted that the suicide bomber was arrested March 21, in Jawzjan province, by officials of the National Directorate of Security (NDS), the Afghan intelligence service.