The following report is a complimentary offering from MEMRI's Jihad and Terrorism Threat Monitor (JTTM). For JTTM subscription information, click here. 
On January 10, 2015,  ISIS supporter "Hamel Al-Bushra" ("Bearer of Tidings") posted on his Twitter page an article titled "Lone Wolves," in which he threatened a wave of lone wolf terror attacks in Western cities.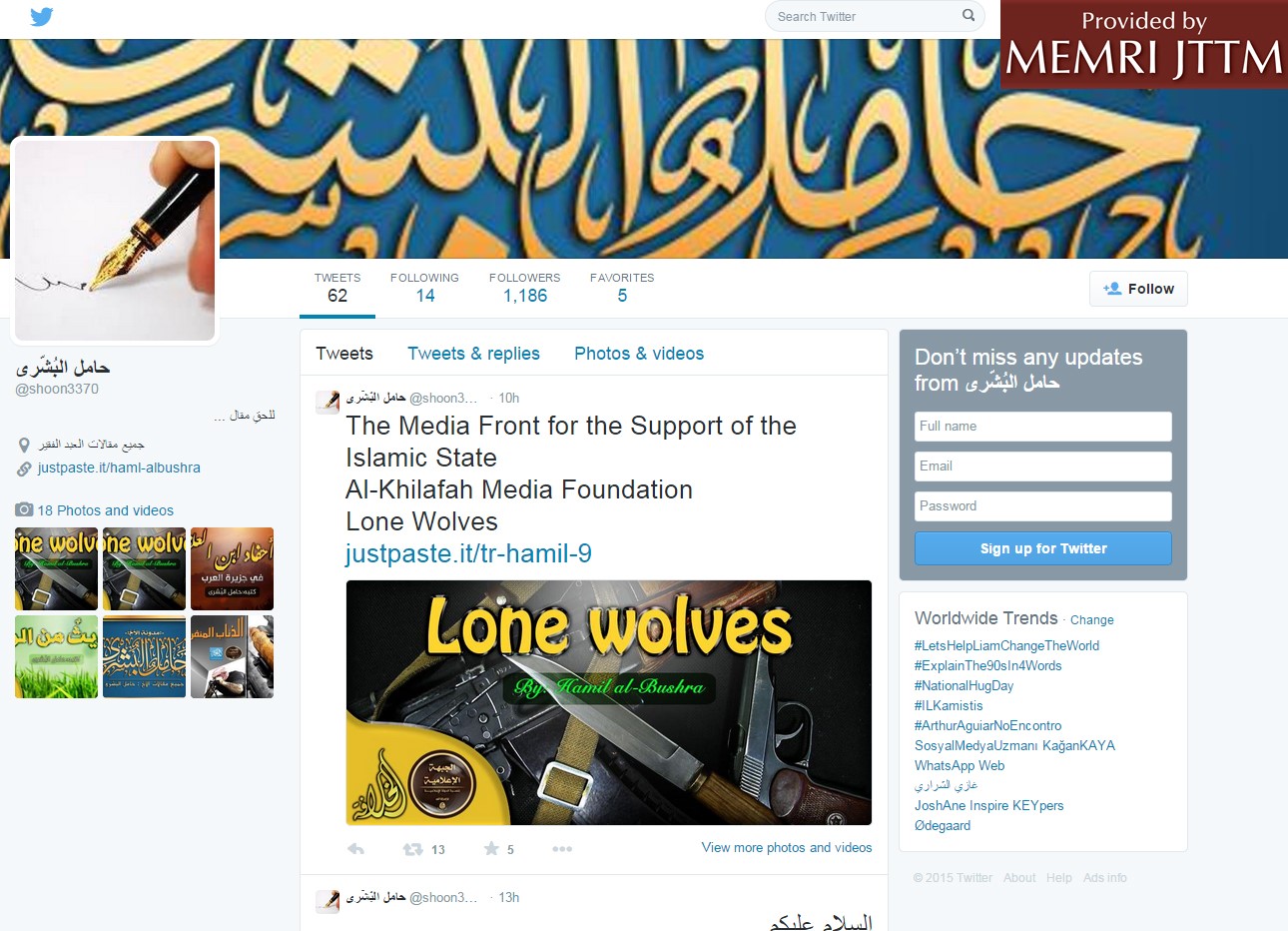 Attacking the members of the rival organization, Al-Qaeda, he says that they do nothing except write in the magazine Inspire from time to time – whereas ISIS has continued fighting the "internal enemies" within the Arab world, thus compelling the "far enemy"  – America and its allies – to intervene and become entangled in a difficult war.
He then notes that two major turning points reawakened the lone wolves to action in their countries: the call by ISIS spokesman Al-'Adnani to commit terror attacks in Western countries, and the declaration of the Islamic Caliphate.  Following these milestones, lone wolves in Western countries began feeling that they were no different than the fighters in Falluja  or Kobane, and set out to attack the Canadian Parliament in Ottawa, as well as Sydney, Belgium, France and many additional places. He notes further that Muslims are subjected to bombings and degradation in their countries, and that lone wolves  balance the equation by retaliating against the West.
The writer warns the people of Europe, Russia and the U.S. that the lone wolves will soon strike them in their cities with bombs, knives, car bombs and even by spreading hazardous radioactive caesium 131 in the streets and train stations. He also advises lone wolves on field security, telling them, for example, not to use the telephone before and after an operation, to cover their faces during an operation, to prepare escape routes, etc.
The following is an English translation of the article that was released by the pro-ISIS media company Al-Khilafa Media Foundation (the original English has been lightly edited for clarity and standardization).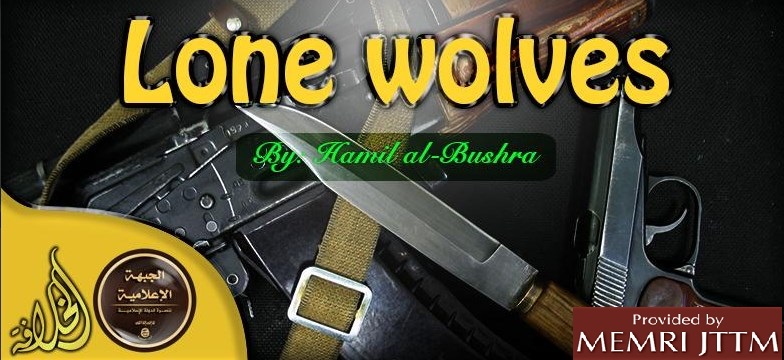 "Lone wolves Or City Lions
"The doings of our heroic Mujahedeen in the East and West countries of attacking the Infidels' heads and those who support them is lone terrorism in the eyes of the west, but in reality those are the wolves of [the] city who repelled against the heads of infidels and their soldiers. In the eyes of Mujahedeen, those are what the holy book of Koran told us: 'So fight, [O Muhammad], in the cause of Allah; you are not held responsible except for yourself...' [Surat An-Nisa'- 84]
"The lone wolves believe that what they are doing is a great worship that they do to be nearer to Allah; killing the heads of infidels, their soldiers, allies, and those who disbelieve in Allah, whether they are civilians or military workers for they are the same, they are doing such following the footsteps of their ancestors, and when they remember:
"Mohamed bin Maslama and what he did with the enemy of Allah Ka'ab bin Ashraf, they get out to the streets of Madrid, Sydney or Texas, carrying their knives and edged weapons stabbing their stomachs, beheading their heads, and by doing so they are following the footsteps of Mohamed bin Maslama, in which his actions was pleased by the prophet, and the prophet was happy with his action, and actually the prophet himself is the one who sent him to do this operation!
"And when they remember Abdullah bin Unais, the city wolf gets out depending on Allah, taking his pistol, and he enters a Police station, or a Government office or a Church and by doing so he avenged for Allah and His prophet peace be upon him. The lone wolf remembers the prophet's companions and the salaf who followed them like Fairus Aldaylami who cut the head of Al-Aswad Al-'Ansi, he - the city wolf - remembers them and he gets out to New Jersey or New Mexico and takes out the lives of the enemy's soldiers and commanders on their streets and public squares.
"On this way the lone wolves follow their example before: Mohammed Bin Maslama, Abdullah bin Unais & Fairus bin Dulaymi in chopping off the heads, stabbing the stomachs and shattering the skulls of infidels. So to give them the taste of their own medicine, make them feel what life is like, living in Fallujah in Iraq, or Kobane in Syria, what it's like to experience the day and night bombs dropping from sky, the missiles hitting our mosques, homes, killing our children, killing them in the streets of Norway, Florida, Montreal, Finland, Lisbon, Luxemburg, & Canberra will terrorize them, and it will make them feel our wrath.
"Let the equation be balanced, let the words of the Shaheed [martyr] and the Imam Osama bin Laden be like it be: 'I swear to Allah that America will not dream, neither those who live in it to have peace until we have in Palestine, and until crusaders leave and empty the peninsular of our prophet Muhammad peace be upon him' 
"Quick Review Back
"The Strategy of the Sheikh was to fight the infidels, and he did it with all he could, 11 September was a good example, before that there was USS Cole, followed by the operation of our brother Omar Al-Naijeyri, Sheikh Osama every time explained his actions in every operation with a recorded message.
"What Changed After Sheikh Osama
"What changed is that, there were no actions, words replaced them, sadly so but this was the reality, accompanied by avoiding fighting against the internal enemy as a 'strategy'! So we did not see this or that, except the 'Inspire Magazine' which we recommend, thanks to Sheikh Anwar Al-Awlaki – May Allah Accept him - who took part in creating the magazine.
"Islamic State - on the other hand - have one strategy that is: fight the nearest, and it forced the far Americans and their followers to enter in a bankrupting fight. The Islamic State succeeded to hurt the near enemy and forced America to enter and fight, also Islamic State has established Dabiq Magazine, and Al-Hayat Media Center, intended to address the west, and it did not add anything to an audio speech by the official spokesman Abu Muhammad Al-'Adnani titled:
"'Indeed Your Lord Is Ever Watchful'
"Urges the Muslims to fight the criminals, the head of Kuffar, and the warlords who begin to fight the Islamic State.
"The announcement of the Khilafah [caliphate] was the key to good, and the outlet for those lone wolves after Osama died, and the Qaida of Al-Zawahiri became the head, not the Qaida of Osama bin Laden.
"The head of the snake (United States) was still the enemy, the rest (the tail of the snake) was left roaming around, till new heads were born! And the tail was the one who singled in killing, imprisoning and fleeing Muslims, and when it was hit by the brothers in Iraq - for example 'Irbil' they (Al-Zawahiri's Qaida) said: no! It was better to hit the head! And by this way, the head and the tail were all left! Al-Qaeda deceived (with false illusions) its followers, supporters, and soldiers in hitting the head of the snake, but no one answered, this was for a number of years, still no one answers!
"After the speech of Al-'Adnani, we saw the effective result, the Lone Wolves again were at it, they took the responsibility to hurt the Kuffar [infidels] where it would hurt mostly, they carried out attacks on the streets of New York, hitting police stations, then in Ottawa where the Parliament guard was targeted, the effect of Al-'Adnani Speech was felt in several Western countries in France, Belgium, Australia, United Arab Emirates, The Two Holy Mosques Country [Saudi Arabia], France and we for sure still will see again blessed operations. Sheikh Al-'Adnani - may Allah keep him firm - said:
"'Especially France'
"Those who observed the reasons of the Lone Wolves operations will realize that the reasons are the oppression of these countries, in their own countries or in Muslim Countries. These operations were carried out because they banned the veil, they fought every small right that Muslims have to worship, they fought the Mosques, they forced people to follow the democracy in the Muslim countries, which is a great Shirk (polytheism) unknown by many of our Muslim sons, and made it a god besides Allah, and they intervened and fought against the Muslims who intended to apply Sharia and the law of Allah in their Land, Iraq, Afghanistan, Somalia & the Levant recently are good examples and now we see the coalition of almost 60 Countries against the Khilafah!
"So after all these, how come that you want the lone wolves to stop and not act, how do you want our lions in Europe, Australia, America, Canada, Russia, how do you want them to watch their Muslim brothers get killed, how do you want them to stop, How?
"'To the People whom their countries participate in the coalition against the Islamic State'
"Can you live in Raqqa , or Kobane, or Falujjah, or Jurf Al-Sakhr, or Belad, or Mukeishifah, or Ishaqi, Or Tarmiya, Or Ghouta? Your Answer is: No, for sure. Why you can't live in those cities? No worries, I will answer, because the coalition's fighter jets, and bomb destroy everything, they carry out this barbarism act with the help of their proxies, the children of Ibn Al-Alqami, the bastards! (Shi'ite government)!
"So our Lions, Our brothers in Islam, those who did the operations of Charlie Hebdo, the operation of Ottawa Parliament, the Sidney Café, Our Lone Wolves wanted to give you a taste of your own medicine, they wanted you to try and experience somehow what's happening in Fallujah or Raqqa, a places where you can't live, but we live in there with the help and the guidance of Allah 'Glorified and Exalted be He'.
"And you are getting killed because of your Denial and not Believing in Allah First and then because of your fighting against us and your tyranny towards us.
"In the Lord's eye this is justice, this is balance, and he is with us, and he will help us defeat you, Don't you see, we are small in number, but we are growing day by day, and we are destroying the defense and the forts of your proxies, those you chose to represent you.
"Allah said in His Holy Koran: 'Whoever has assaulted you, then assault him in the same way that he has assaulted you' So do you feel the same way we do, O the people of Europe, America, Australia, Canada & Russia?
"I don't think so, you descendants of Monkeys & Pigs!
"I don't Think so, you worshipers of the cross!
"I don't think so, you atheists!
"I don't think so, You Majus!
"No, No!! So I say to you, wait for more of our Lone wolves, the lions of the city, to make you understand justice, and to make you feel the same way we do, to wake you up from your sleep, and the agonies of your desires!
"Yes you will feel the same way as we do, when you hear the bombs going off in the streets of San Francisco & Belgium!
"Yes you will feel it, when the silencers will be used to shut you up forever in the streets of Madrid, London & Sydney!
"Yes, you will feel it, when you wake up to have your breakfast and you hear the effect of the explosives in the city, and when you go to your work there await you the descendants of Al-Zarqawi to behead you with their knives, when the silencers of Abu Umar Al-Baghdadi await you on the streets and roads. Yes, you will feel it when the Caesium 131 Poison spreads in the streets and the train stations of Russia, Boston, Dallas, Virginia, & Amsterdam.
"I promise you all that I said before, it will happen, no matter of what you do to be care full, it will happen, as long as you still occupy our countries and bomb us and kill our children and women! Yes, I promise you, so wake up and watch out, be careful, watch out when you go to work, watch out when you enter your work premise, hire security guards, anyway they won't matter, because our target is you, not them, we will target you, in short leave your work and watch out, from now on you are a target to us, wherever you are!
"I believe whatever operations that happened and you watched it and heard it, it's all the beginning, beginning for declaring your countries and cities to be a part of the Islamic State, to be part of the great Islamic Caliphate. And don't you be surprised by that, I am not exaggerating, Allah Knows. God is with us, and he will support us and help us, and Allah is Owner of the Kingdom. He gives the kingdom (governance) to whom he will.
"Allah said in His Holy Koran: 'Allah has promised those who have believed among you and done righteous deeds that He will surely grant them succession [to authority] upon the earth just as He granted it to those before them and that He will surely establish for them [therein] their religion which He has preferred for them and that He will surely substitute for them, after their fear, security, [for] they worship Me, not associating anything with Me. But whoever disbelieves after that - then those are the defiantly disobedient'
"Thawban (RA) reported that Allah's Messenger (SAAW) said: 'Allah drew the ends of the world near one another for my sake. And I have seen its eastern and western ends. And the dominion of my Ummah would reach those ends which have been drawn near me...' (Sahih Muslim, Kitab Al-Fitan wa Ashrat As-Sa'ah, Hadith 5144)
"And This Is Advice To The City Wolves:
"Take what suits you and benefit you and we hopefully would not be denied the rewards of your good deeds: After you do your operation, stay away from your known locations, your familiar area. Don't Use phone calls before and after your operation, and don't depend on official paperwork. You must cover your face, and you must not leave any thumb prints as your brothers of operation Charlie Hebdo did. You must have a plan for you withdrawal after the operation is done, a clear and effective plan, so they won't be able to trace you easily. Hurry up and move to another state immediately after your operation. Make sure you have your belt ready, don't you ever allow them to catch you alive so they will torture you, become Shaheed and kill couple of them at the same time. Avoid large numbers in your operations, it will make hard for you to withdraw afterwards.
"We gladly and happily inform the Islamic Ummah of the martydom of brothers:
"Said Kouachi
"Chérif Kouachi
"Amedy Coulibaly
"May Allah accept them..."